PaperTrue: The Company Catering to China's English Writing Needs
Feb 27, 2023
5 min read
The 21st century has enabled booming international trade and business like never before. And English is the lingua franca for its communication to keep global commerce in speed. This has led to the development of Business English, which the world is scurrying to catch up to. China is at the forefront! But that road for now, is paved with many lingual obstacles. 
The challenges of Business English in the Chinese context
Though China is catching up with ESP (English for Specific Purposes) in a big way, learners face big challenges in learning the nuances of English due to the vast differences in the construct of the two languages. Let's look: 
The academic level language lessons only cover basic conversational English. It doesn't cover advanced English writing in-depth.
Graduates from the best of schools and universities consider Business English writing to be the most difficult course in the program.
Lack of language proficiency makes it difficult to put across thoughts and ideas sufficiently.
Improper use of grammar can distort the meaning of the message you're trying to send across to your overseas clients or partners.
Written communication is important 
Business documents can make or break important deals. These days, a lot of commercial communication happens over the internet. As meeting associates face-to-face can be time and cost-intensive, sending across a smartly worded letter is more effective. That's how most business deals get sealed through emails, telephones or video conferences. This makes the written word highly valuable for all involved parties. 
A well-written business letter conveys trust, interest, and assurance of high-quality. Whereas a poorly written piece shows a lack of due diligence, interest, and weak preparedness.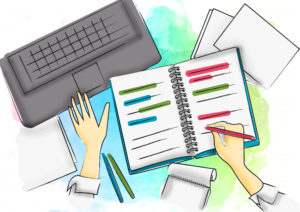 What we do
Studies show there is an increasing need for business English editing, proofreading, and translation services in China. PaperTrue has been at the forefront of the editing and proofreading service space in Europe and the U.S. for over a decade now.  So we realized that it is our duty to fill in the void with the highest quality English writing services in China. Today, we stand proud as enablers of that. Here are our main areas of function: 
Editing 
Our expert editors scan your documents from a business lens. We ensure your documents appear clear and professional, conveying the best of your abilities. Whether it's for internal circulation or sent out to stakeholders, we make sure to add the required level of tone and voice to carry with the underlying message. 
While writing business letters, you must ensure you don't make it jargon-heavy, improper sentencing and have any grammar or spelling mistakes. That will surely give a bad impression and not be taken seriously at all.
Proofreading
Global business houses make sure that the annual reports and other crucial documents they circulate among stakeholders are thoroughly proofread by professionals. That's what we do as a company; make sure that each page and every word is perfectly arranged by eliminating all language and grammatical errors. 
Translation
Over the years, we have built a reputation for providing world-class services in the translation, editing, and proofreading industry. Having worked closely with Chinese business professionals on a variety of English documents, they remain our main focus as we understand their specific needs.
Plagiarism check 
Our tech team has developed an AI-powered software that instantly scans through the text of millions of web pages to detect if any part of the document has been plagiarized. 
How we help businesses:
Impeccable business documents are crucial to winning new deals and partners. Our expert editors understand your particular needs as a Chinese business. Your document is thoroughly proofread to ensure it is entirely free of errors in grammar, spelling, punctuation, and typography.
If your document requires deeper editing, we also refine the style, sentence structure, clarity, and coherence and give you detailed feedback so that your document makes the right impact on your target audience
Business documents we refine: 
Business Reports

Presentations 

Magazines 

Presentations 

Blogs 

Website Copy 

Business Plans 

Newsletters 

Translations
Our mission is to provide laser-sharp English editing and proofreading to all our clients. We polish the ideas and aspirations of countless businesses, professionals, and students from around the world. With a team of over 100 in-house translators and editors who edit and process 40 full-length documents every day, PaperTrue is one of the world's foremost companies in the editing, proofreading, and translation service space.
Manish is a serial entrepreneur, business coach, and the Founder of PaperTrue. His vision is to make impeccable English communication possible for everybody, so they can write effectively and gain the academic and professional success they deserve.