How to Create an MLA Header | Format Guidelines & Examples
Sep 15, 2023
3 min read
Like many other formatting styles, the MLA style requires headers to be included on every page. An MLA header focuses on authorship, so the header format contains the author's name(s) and page numbers.
In this article, we'll be exploring guidelines around the MLA header format, how to create one, and sample headers. Without further ado, let's get started!
What is an MLA header? 
The MLA header is a line of text above the contents of every page in your MLA-style paper. It contains the author's last name and the page number. The MLA format header is a mandatory element of MLA-style academic writing and must be present on every page (except the MLA title page, if you have one).
The MLA header helps your readers easily track the page numbers of your paper. It is also known as an MLA running head. 
Note: An MLA paper header is not the same as a heading.
MLA header format guidelines 
Crafting MLA-style headers requires precision and attention to detail. In this section, we will provide detailed guidelines to format your paper.
Follow these steps to format your MLA format header:
Include the author's last name(s) followed by the page number after a space.
(Example: Hume 24)
Write your page number in Arabic numerals, starting with "1" on the first page of the paper body.

Do not include any punctuation marks in the header. 

Place your header in the top-right of the page. 

Leave a margin of 0.5 inches (1.25 centimeters) from the top and right side of the page, as shown in the infographic below. 

Maintain the same font style and size you're using in the rest of the paper. (This is usually 12-point Times New Roman.)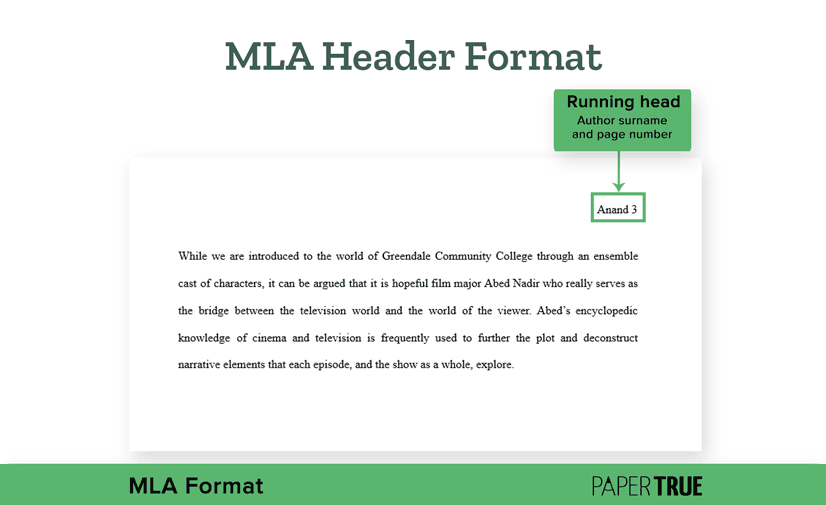 MLA format header for more than two authors 
The official MLA Handbook does not prescribe detailed guidelines for how headers are written in papers with multiple authors. We've compiled some commonly used guidelines that you can consider while creating your header.
MLA header for two authors
If you're writing your paper with someone, your header must contain both your names followed by the page number. For example: 
Hume and Bachchhav 24 
Separate your names with the conjunction "and". Avoid the use of ampersands (&). 
MLA header for three or more authors 
If you're working on a group project or a paper with three or more authors, you can list only the surname of the first listed author of the paper, followed by "et al." and the page number. For example, the header for a paper written by Hume, Bachchhav, and Scott will look like this: 
Hume et al. 24
Another acceptable header format for a paper with more than three authors is to list down all the authors' last names, provided that your header doesn't become too long. Here's one such MLA header example: 
Hume, Bachchhav, and Scott 24 
Since there are multiple commonly acceptable variants of MLA format headers, you should consult your university's style guide and get clarification from your instructor. You can also look for an MLA header example in papers that your peers or seniors have written. 
How to create an MLA style header 
Popular word processors like Microsoft Word and Google Docs come with built-in features that let you format MLA-style papers. This makes it quite easy to format MLA-style headers. In MS Word, you can create a header under the "Insert" menu.
Double-click the top of the page.

Click the "Insert" menu in the toolbar.

Click "Page Number", hover over "Top of Page", and click "Plain Number 3".

Enter your last name along with the page number, both right-aligned
Now that you know how to format an MLA running head you can write your paper with confidence. If you'd like to keep reading about the MLA style, here are some more resources:
Frequently Asked Questions
Chetna is a child of the internet. A writer and aspiring educator, she loves exploring digital media to create resources that are informative and engaging. Away from the writing desk, she enjoys cinema, coffee, and old books.