Top 10 Resume Editing Services of 2023
Aug 17, 2023
6 min read
A resume is a document displaying your professional highlights, unique skillset, work history, as well as academic degrees and achievements. Ideally, your resume should be the best formal introduction you can create. You can ensure this by working with a resume editing service that refines your writing and polishes your content to meet global standards.
Once you have gone through various resume writing guides and added the necessary details from your profile to your skillset, it's time to get it edited and proofread. Editing services assign a resume editor to completely overhaul your document and make it better suited to global standards. Here are the 10 best resume editing services in 2023:
PaperTrue
Scribendi
ProofreadingServices.com
Wordvice
Cambridge Proofreading
Proofed
Resume Perk
EliteWritings.com
ResumeGo
Ultius
Let's consider these services one by one.
PaperTrue has a diverse group of resume editors whose industry-specific expertise removes any logical or skill-based inconsistencies in your resume. They ensure that your resume is tailored to the position you're applying for, if not the company!
Before the final draft reaches you, the resume goes through two review cycles of editing and quality check by the assigned resume editor and senior editor respectively. PaperTrue provides a free edited sample for 100 words, and you can calculate by typing the word count of your resume here.
To view PaperTrue's customer reviews, click here. 
Pricing: For a 500-word resume with a turnaround time of 25 hours, the editing and proofreading service will be priced at approximately $58. 
Turnaround time: Depending on the word count, they can prepare your final draft as early as 12 hours after receiving your first draft.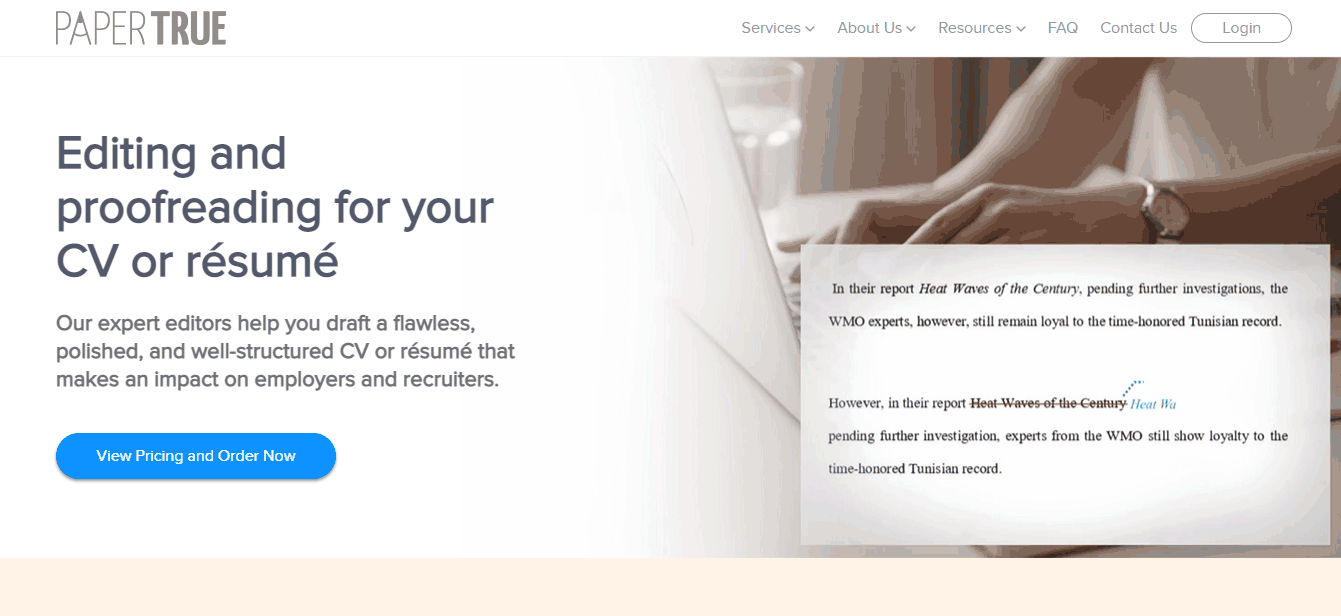 Scribendi provides editorial services for students, businesspersons, authors, and academic researchers. Under resume editing services, they provide editing and proofreading for cover letters, CVs, and resumes. 
Their resume editing services can get your final draft ready as early as four hours after receiving your resume. Apart from the standard editing process, the editors will also provide valuable suggestions and summaries to better highlight your industry-specific skills and knowledge. 
Pricing: A 24-hour edit for a 500-word resume will amount to nearly $44.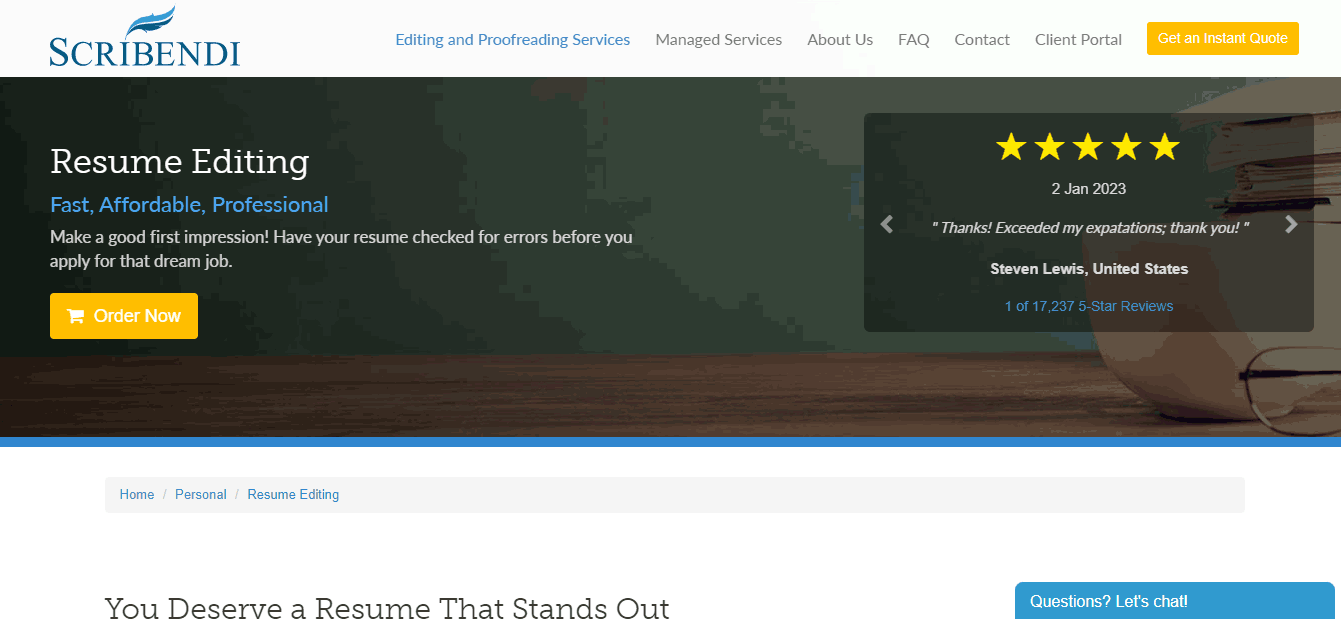 Besides standard resume editing services, ProofreadingServices.com also provides resume writing solutions too. To help you with your job hunt, they take it up a notch by providing 
Pricing: Resume editing with them will cost you around $67.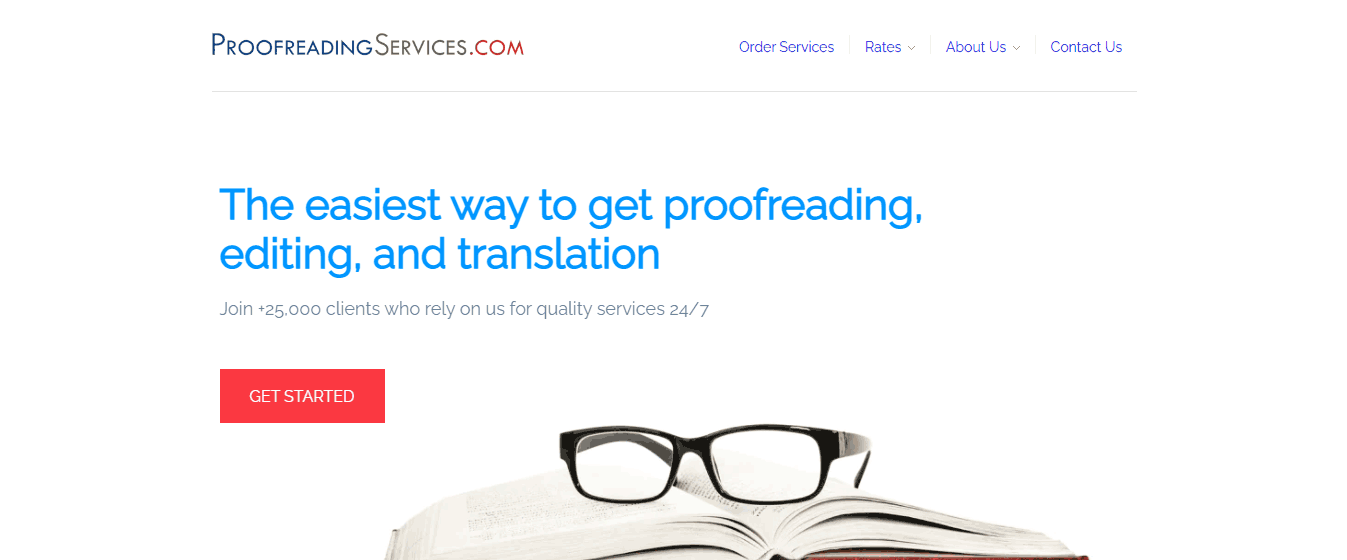 Wordvice resume editors give your resume the competitive edge that it deserves. They undertake standard editing and proofreading for your resume to optimize it as per UK/US English requirements and ensure a 10% word count reduction whenever required.
Wordvice's Express scheme can deliver your resume as early as either 9 or 13 hours. Further, every major change in your resume will be backed by substantiated comments explaining the reason behind the change.   
Pricing: The 500-word tailor-made Wordvice resumes delivered within 24 hours will cost you $52.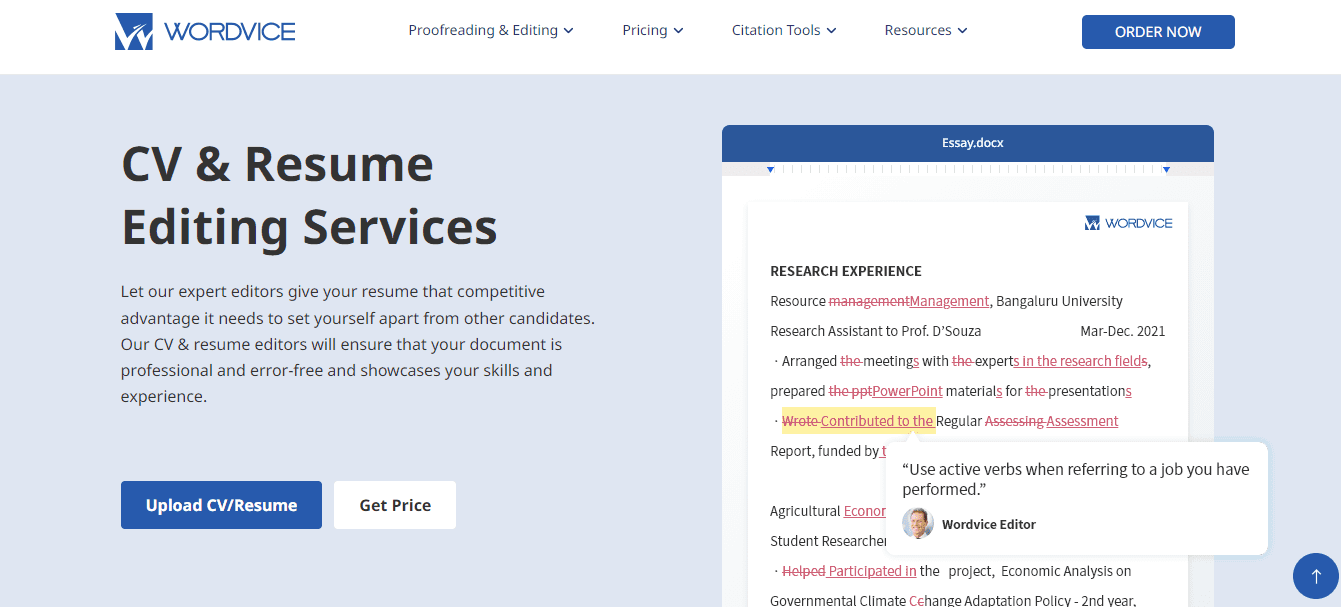 Cambridge Proofreading prides itself on delivering job-winning resume services for ESL applicants. Their editors are subject-matter experts who will check the language and content of your resume to refine both of these aspects. 
Their editing services are available 24/7 throughout the year and can get back to you with the promised deliverables as early as 12 hours. Further, their premium package includes a 2-step verification process wherein two resume editors will be assigned to work on the same material and better your prospects at landing the desired job role. 
Pricing: The basic package with one editor will cost you nearly $29 with a turnaround time of $24 while the premium package with two editors will cost you __, delivered in 72 hours.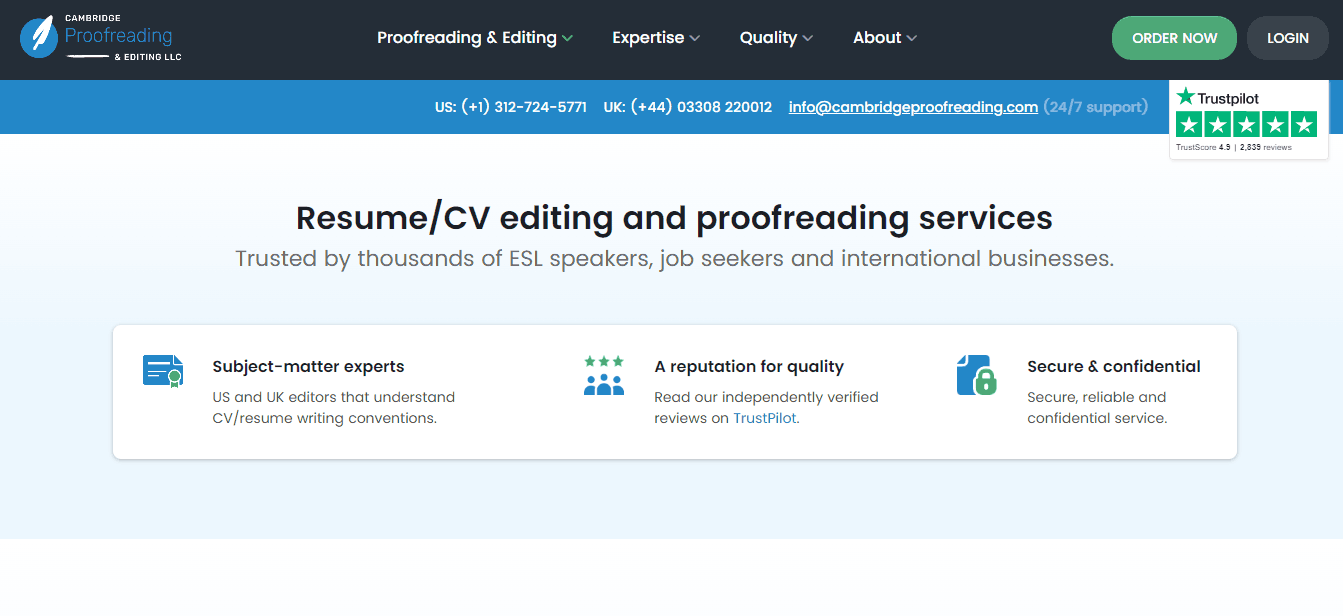 Proofed is a resume editing service that houses a team of 750 editors who work to revamp your resume to create a clean and concise document. Their resume editor runs a complete overhaul to correct basic English errors (grammar, punctuation, and spelling).
The editing services they offer also increase document readability, locate inconsistencies, and add a professional touch using resume English. Their editors provide feedback to either ask for more information or suggest further changes. 
Pricing: For standard 24-hour delivery, editing a 500-word resume will cost you $30. Further, they also have a provision for lightning-fast delivery. Here are the Proofed available packages.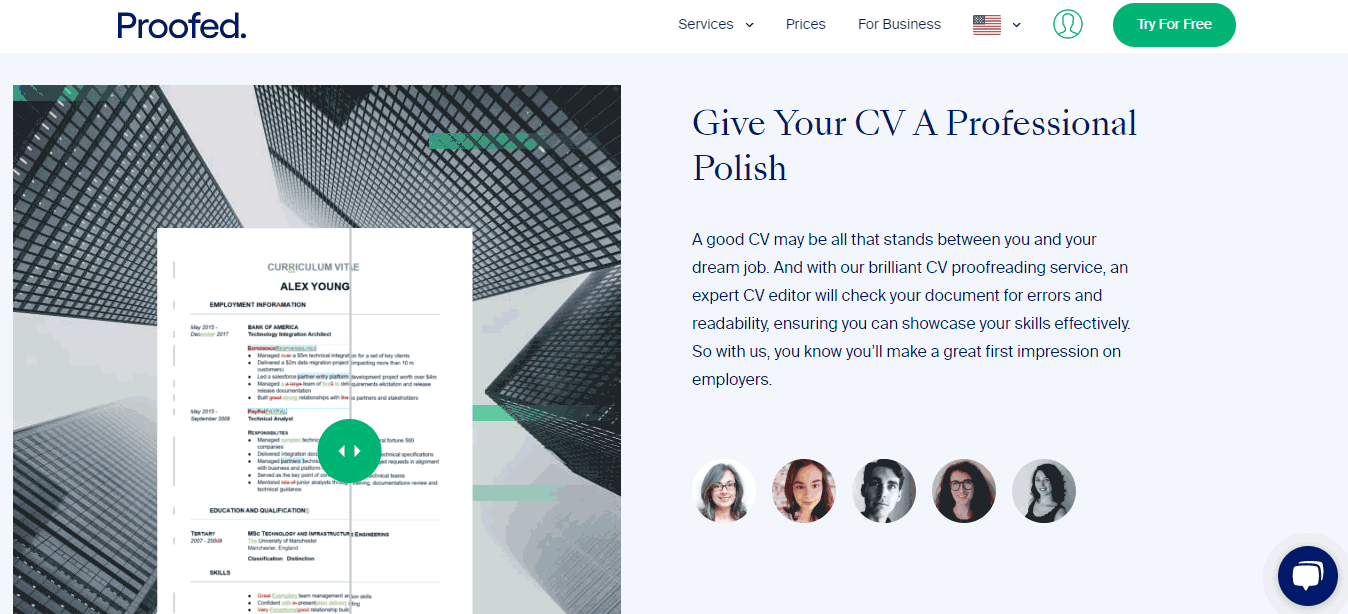 The highlight of getting your resume edited by Resume Perk is that they harbor a specialized team of resume writers from 60+ industries, some of whom have hiring manager experience in the past. Additionally, they also have editors who can deliver your resume as early as 24 hours. Their 24/7 customer service will promptly address any special requirements you may have.
Working with Resume Perk is very easy. Just create an account on their website, upload your unedited resume draft, and download the updated resume as per the deadline. 
Pricing: Their resume editing services will cost you $155 for a turnaround time of 24 hours.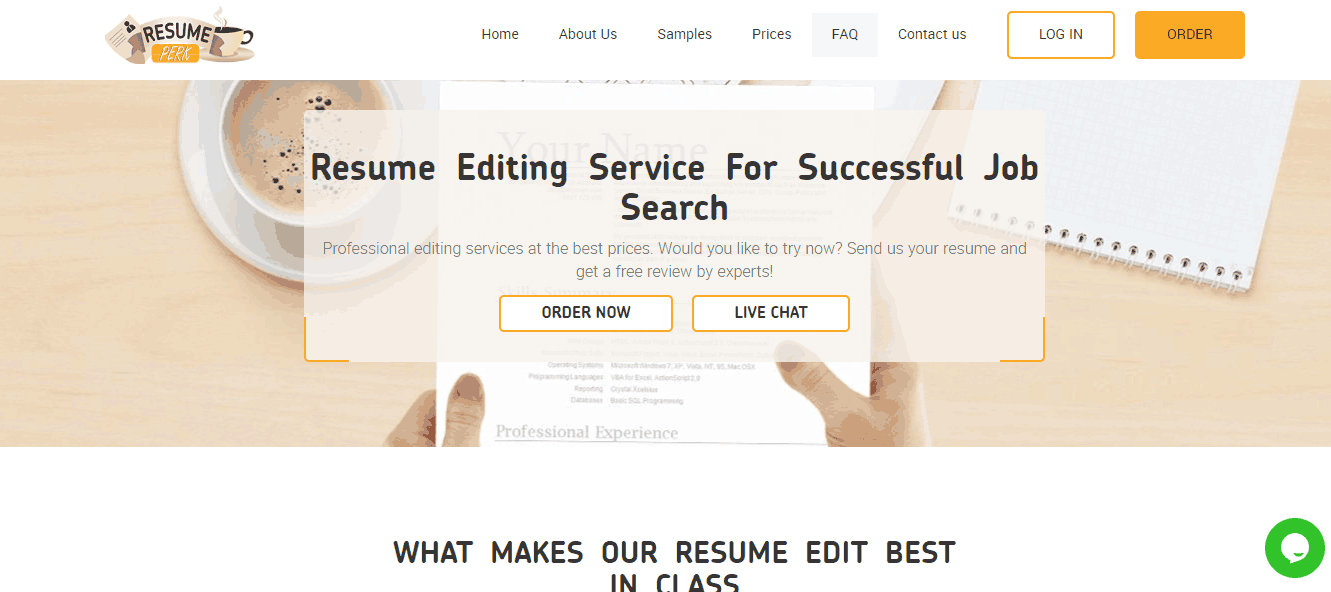 EliteWritings.com, like Resume Perk, provides holistic resume services that cover curation as well as editorial services. The assigned resume editor will check for quality and consistency while removing grammatical and formatting errors. Further, the editor will also verify if all the instructional guidelines provided by you are addressed in the final resume. 
It is noteworthy that you won't be able to avail of only editing services at EliteWritings.com. So, if you are someone who wants a new resume from scratch, EliteWritings.com is the place to go. 
Pricing: Their combined resume services will cost you up to $77.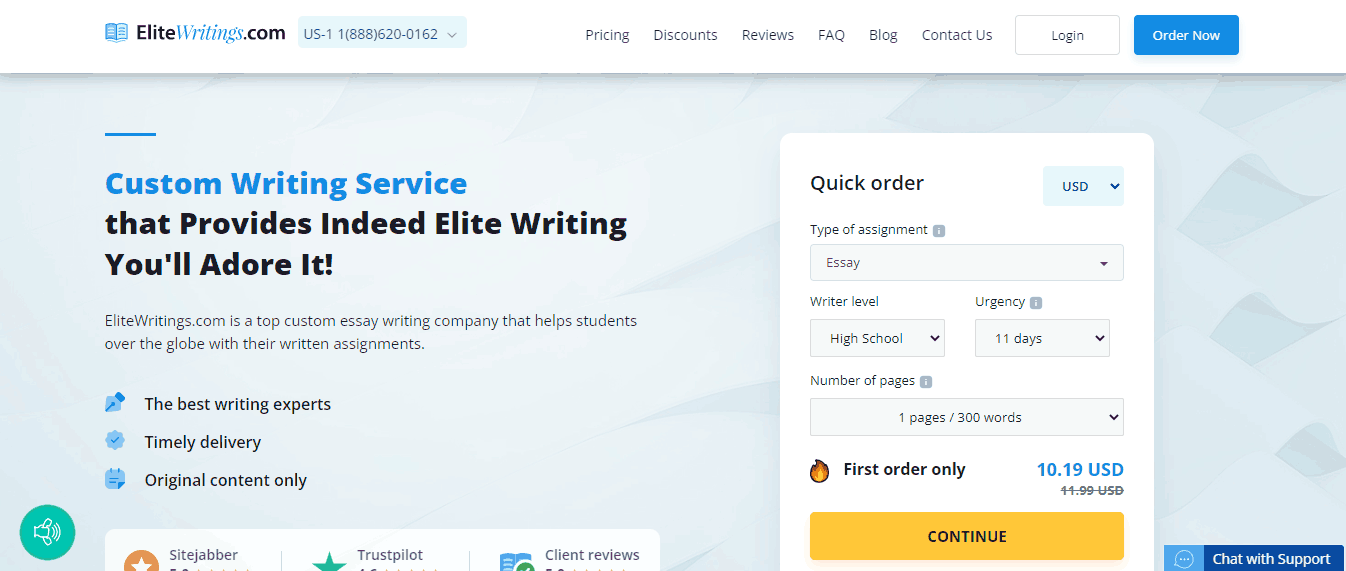 ResumeGo provides resume services from scratch as well as develops on already-existing resume drafts. Their professional resume writers will write and draft your resume before sending the same to the editors for further refinement. From ATS optimization to new research, they use a data-driven approach to attract more visibility in the HR circle. 
Complete an online form that will detail all relevant information about you along with the current draft of your resume. Based on the entries of the form, ResumeGo will assign a writer who will review your resume and decide whether your resume either needs a complete redrafting or simply can do with editing the already-existing piece. 
Pricing: Professional resume editing services at ResumeGo will cost you within a range of $360–$600, depending on the word count and turnaround time.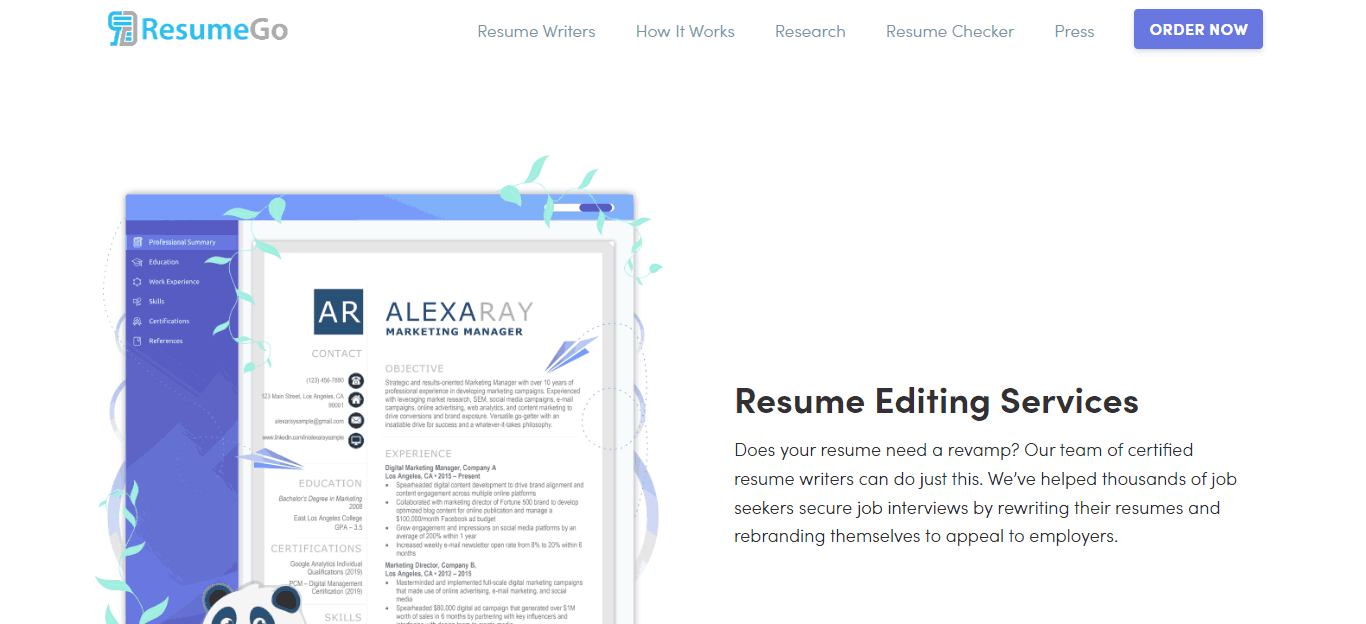 Fill out and submit an order form with your resume to avail yourself of Ultius' resume edit service. A highlight of Utlius is that their resume editors are all native speakers who reside in the USA. They also provide resume writing services to help you give you a competitive edge. 
Pricing: Utlius's pricing for editing services is not fixed. It is dependent on the complexity, word count, and formatting style that the customer wants their resumes to emulate. 
As your loyal editors and proofreaders, we only want the best for you and your career. We hope you find the best resume editing service to work with on this list!
If you'd like to keep reading, here are a few related articles:
Jahnabi is a scholar-practitioner of performance, art, and aesthetics. As she takes a sabbatical from academic research, she has taken to spending her time fulfilling a laundry list of academic writing and editing.