Types of Editing
Oct 03, 2022
5 min read
Okay, so the hard part is done. You have finished your book. You are poring over your work, fondly reminiscing about the number of hours you spent scratching your head and trying to generate ideas and words. But wait. You suddenly realize that you have to give your book for editing. And you go over your book again, but this time you are scratching your head, trying to find out how the copy editing should be done. Instead of being an editor and proofreader on top of skimming your brain for ideas, sit back. Don't worry, let us do all the thinking for you on this part. 
Book editing is a tedious task, and that is why it is best left to professionals, in this case, editors. If you thought that editing is one of its kind, then you were dead wrong. There are various types of editing suited for different types of books. Let us take you through them. 
#1 Editorial Assessment


Still in the process of writing a book and want an editor's opinion anyway? There is something called 'editorial assessment', which is perfect for that. In this type of editing, the editor gives tips on how to construct a story, how to flesh out your characters etc. Basically, in an editorial assessment, an author can hope to get a definite direction and streamline his writing process in that way. 
It is not as in-depth as a developmental edit, which is the next point. You can think of it as a transparent coat of paint on a wall. It's not enough, but it gives you something to start with. 
#2 Structural Editing
Like it sounds, structural editing is mainly for the improvement of the structure of your story and plot. This type of editing also looks into the splitting of a story into chapters or sections. Basically, it is a version of developmental editing that checks the pace of your novel and the style in which it is written. 
Structural editing is necessary because it helps you look at the 'big picture'. Since you've become too close to your book, it is very possible that you might not look at your work objectively. It is also possible that you might have forgotten to complete a sub-plot in your book and gone through with other things. Structural editing looks into all these areas and ensures that the 'big picture' is finished and thorough.
#3 Developmental Editing
Developmental editing is when editors check for major inconsistencies in your work. These could be gaping plot holes, inconsistent storylines, and character development issues. This type of editing is essential to help the writer envision their story in a much better way and give depth to their characters. 
Developmental editing usually focuses on feedback about the story, plot, characters and other important elements in the book by the editor. Only after the writer works on improving these, can the process can go further. The developmental editor does the job of adding a little colour to the pale cheeks that is the unedited manuscript.
This is generally the first step in the editing process. I don't think that formatting would do your book any good when the main elements haven't been cast into a solid mould yet! 
#4 Copy Editing
Once all the major plot holes in your book are repaired, it is ready for copy editing. Copy Editing helps bring clarity, coherence, and consistency to your manuscript, bringing it to a more professional level. It is also known as mechanical editing or line editing, based on its application. 
Copy editors fix these common mistakes:
Copy editors also fact check your manuscript for incorrect facts or misplaced facts. They make sure that the voice of the novel is suitable for the audience that the book is aimed at. Usually, a manuscript has gone through a host of changes and tons of revisions before it goes to the copy editor. The author can accept these changes wherever they think appropriate and edit their manuscript accordingly. 
When you are satisfied with how the plot and its elements have turned out and you cannot see the mistakes yourself anymore, then it is time to hand your book over to the copy editor. 
#5 Line Editing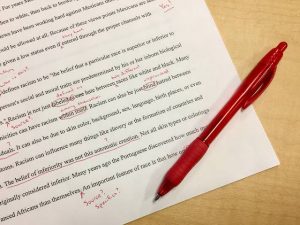 The characteristic magnifying of each word comes to mind with this type of editing. Line editing is a meticulous process by which your editor will edit your book line-by-line, focusing mainly on the style and flow of your content. 
Line editing is under the umbrella of copy editing, but it is more precise and corrects POV and descriptive inconsistencies. The editor will fix any awkward and repetitive phrases, along with contextual word errors and abrupt sentences. 
As an author, you will most likely not make these mistakes but if you do (we know how stressful it can get), a line editor is sent to your rescue. 
#6 Proofreading
Proofreading is the last step of the process. The editors give the book a final stamp before sending it off for publication. For this reason, proofreading picks up only minor typos and inconsistencies in the book. 
Usually, by the time a book has arrived at the doorstep of proofreading, it has gone through a rigorous snip-snap at the editor's hands. This type of editing pays attention to any formatting errors, like an awkward hanging word left at the end of a line or uneven spacing in-between words. 
Knowing the different types of editing is essential to shape your manuscript. We recommend getting your book edited professionally because self-editing is a bad idea. After struggling to put out eloquence on a page, leave it to the editors to wax poetic and help you do it as well!
PaperTrue is an editing and proofreading company that provides English language solutions to businesses, academics, and authors all over the world. To know more about their work, visit www.papertrue.com.