Self-Publishing Options for Writers
May 02, 2022
7 min read
Nothing about self-publishing a book is easy. What are the self-publishing options in front of you? What are the best self-publishing companies for your editing needs? Which publishing platforms will help you reach wider markets, and which choices will favor your budget?
Let's start with the basics.
What is a self-publishing company?
A self-publishing company is a platform that helps authors publish their own books without the involvement of an established publisher. Unlike a publishing house, a self-publishing company is not listed as the publisher of the book and it does not take any part of the author's royalties.
In self-publishing, the author is the publisher. They retain all of the creative control and most of the book earnings, only paying the self-publishing company a fixed, predetermined amount as fees.
Once you have chosen to publish your book yourself, there are many self-publishing options waiting for you. Among other things, you need to select the best self-publishing companies to handle different pre-publishing tasks for your book. It's not a simple matter of paying an author service and expecting the profits to roll in.
While self-publishing, you own the book. So, it's your job to ensure that it sells well. This involves choosing the right book marketing model, setting the right price, offering the right discounts, and switching your self-publishing platforms when it's profitable.
But before all of that, you need to question what kind of publishing help you need. The answer to this will determine the self-publishing options available to you and the decisions you should make.
What are the kinds of self-publishing companies?
Self-publishing companies fall into one of four main categories:
Retailer

Aggregator

Author service

Educator
Let's see what the different types of self-publishing companies are and how they help you self-publish your book.
1. Retailer
A retailer company has a wide chain of circulation both online and in print stores. Once you upload your book here, their channels will distribute it to the market and make it available for people to buy.
Self-publishing companies such as Amazon KDP, Barnes & Noble, and Apple Books fall under this category.
2. Aggregator
An aggregator is a company that distributes your book across various bookstores and uploads it on all the online selling platforms of your choice. The difference between a retailer and an aggregator is that a retailer company will have their own selling mechanism, while an aggregator simply distributes your book to various retailers.
Companies like Draft2Digital, Smashwords, and PublishDrive are popular aggregators in the publishing industry.
3. Author service
Perhaps the most important kind of self-publishing company, an author service is the company that works on your manuscript, polishing both cover and content.
Companies like PaperTrue, with their array of pre-publishing services, help your book match the industry standards so it can compete with books that are traditionally published. If you want to publish a book that sells, you'll need to hire an author service.
4. Educator
This is the rarest type of self-publishing company, simply because most services and retailers also offer educational content through their own channels. Exhibit A: PaperTrue's Resource Center!
The Self Publishing School is probably the only company that is primarily an educator. They offer paid instruction videos and guides to help new writers learn how to handle all self-publishing tasks, or even how to execute control over the book publishing process.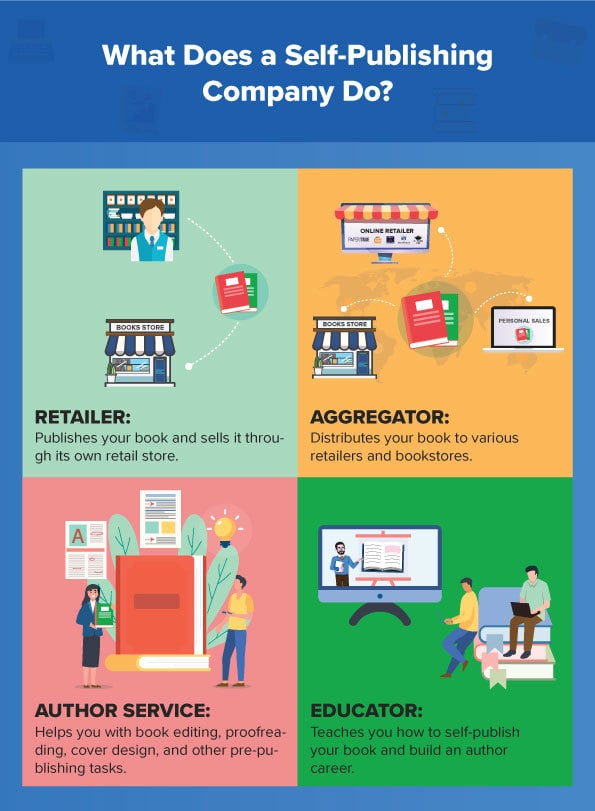 The best self-publishing companies specialize in one out of four of these tasks. So, you'll have to work with more than one company while publishing your book.
For example, while self-publishing a children's book, you'll edit and typeset the manuscript with an author service. But once the pre-publishing tasks are done, you'll rely on a retailer to distribute your book to your readers.
But which one of these self-publishing options do you need to explore? Depending on your unique case, the answer will differ.
Which of the above do you need?
Do you have a manuscript that is ready to be published? Have you gone through the necessary publishing processes such as manuscript editing, book formatting, and book cover designing? If you haven't, it might be useful to go through some online courses about self-publishing, or hire an author service company.
You can either choose to learn and perform these tasks yourself, or hire a reliable author service to handle tasks ranging from editing and proofreading to getting an ISBN and creating a copyright page.
Let's see if paid online courses are your thing, or if you'd rather only learn the basics and pay experienced professionals to perfect your manuscript.
1. Learn to self-publish
All self-publishing companies usually feature some resources to help new authors learn more about the publishing industry and self-publishing process.
PaperTrue, for example, runs a blog that updates authors on topics ranging from what editing steps a book requires, to why writers should turn their book into an audiobook.
Some companies, however, are established with the express purpose of guiding someone to become a professional author. The Self-Publishing School is one such educator. They feature paid or free courses that teach new authors how to manage finances while publishing, how to maintain a trajectory of growth in book sales, and how to strategize in their evolving career.
Some of their paid programs include Become a Bestseller, Fundamentals of Fiction, and Sell More Books. Aside from these paid (and expensive) programs, they also offer free weekly training sessions.
Among your many self-published options, this one is a bit tricky. If you have limited funds, you can't afford to spend them on tutorials. But if you absolutely cannot afford to pay author services, then learning to self-publish is your only way to get your book published.
Not to worry: there are plenty of free resources for new writers out there. Use these to get started on the process, and let experience teach you the rest!
2. Get pre-publishing help
Self-publishing educators might teach you to assert creative control and make the right business decisions. But it's a long and tedious process to learn all the tasks that publishing a book requires. Even if you do invest your time in learning these skills, publishing steps like editing and cover design simply cannot be subpar if you want your copies to sell.
You need the help of an industry professional.
Author service companies are designed specifically to play this role. They relay tasks such as editing and cover designing to experts within those fields, thus delivering a polished book that meets industry standards.
Keep in mind that author servicing companies are different from vanity publishers. Author services charge a specific fee for the help they provide, but they take no royalties and don't have any publishing rights to your book. You remain the publisher, retaining your rights and royalties.
Don't trust any random company with your book. Look for reviews from previous customers, and ask for samples. PaperTrue, for example, has a rating of 4.8/5 on Google reviews, and 4.6/5 on Reviews.io.
Once you know the feedback from other writers, it's easy to decide whether you can trust a self-publishing company. All you need to do after that is decide upon which of the publishing tasks you can handle alone, and which ones you'll need help with.
You will, of course, have to think about the financial side to this. Read this article to find out how much you can expect to pay while self-publishing a book.
3. Sell your book through retailers
Once you have a book that looks polished and reads well, you can either upload it to retailer platforms or hire an aggregator. A retailer company like Amazon KDP or Apple Books has its own store to sell your books.
Amazon's Kindle Direct Publishing is the most popular platform among self-published writers, and for good reason. Amazon makes up more than 50% of the American print book market, and nearly 75% of the ebook industry. These aren't numbers that any writer can afford to ignore!
KDP Select publishes your book for free and it is easy to use. Through Kindle Unlimited, the platform gives you new readers and a payment based on the number of pages people read from your book. The program also offers added promotions and countdown deals, giving you a greater chance to sell your book copies.
However, when you publish your book through KDP Select, you are tied to Amazon for a period of 90 days. You won't be able to sell your book anywhere else. If you have a considerable audience ready to buy your book, it's better to go global than restrict your sales with Amazon. But if you're a beginner, then KDP Select definitely has more pros than cons for you.
Other retailers like Barnes & Noble and Apple Books also offer similar easy-to-publish platforms, but none of them have the kind of external industry presence that Amazon does.
The only problem with retailing companies is, you need to upload your book onto all these platforms and navigate their mix-and-match of exclusivity options, promotion opportunities, and style of doing business.
It can be much easier to simply hire an aggregator that will distribute your book onto all platforms of your choice, including online retailers and physical bookstores.
4. Hire an aggregator
Hiring an aggregator can be beneficial if you don't want to put all your eggs in one basket. Plus, publishing your manuscript onto every publishing platform out there isn't an easy task! As an author, you may even miss out on some niche but influential platforms and international companies that aggregators keep track of.
Aggregator companies upload your book on more than 30 different retailing channels, ensuring a widespread, international distribution of your book. A wider reach translates into more buzz, which ultimately helps boost your book sales.
Draft2Digital and Smashwords are among the best self-publishing companies that specialize as aggregators. They take a percentage of your sales in exchange for distributing your book onto retailers and bookstores across the world.
PublishDrive is a relatively new player on the scene, but it has gained a lot of traction due to its promotion opportunities and dashboard feature. They charge a monthly subscription rate and do not take any part of your book earnings.
The obvious confusion for any new writer is between the exclusivity benefits provided by publishers like KDP and Apple Books, or the widespread reach of aggregators like Publishdrive and D2D. Plus, hiring an aggregator means paying an aggregator!
Along with the payments you make to retailing platforms, an aggregator's fees will curtail your profits. So, what should a writer do?
Let's resolve this along with any other doubts you may have about your self-publishing options.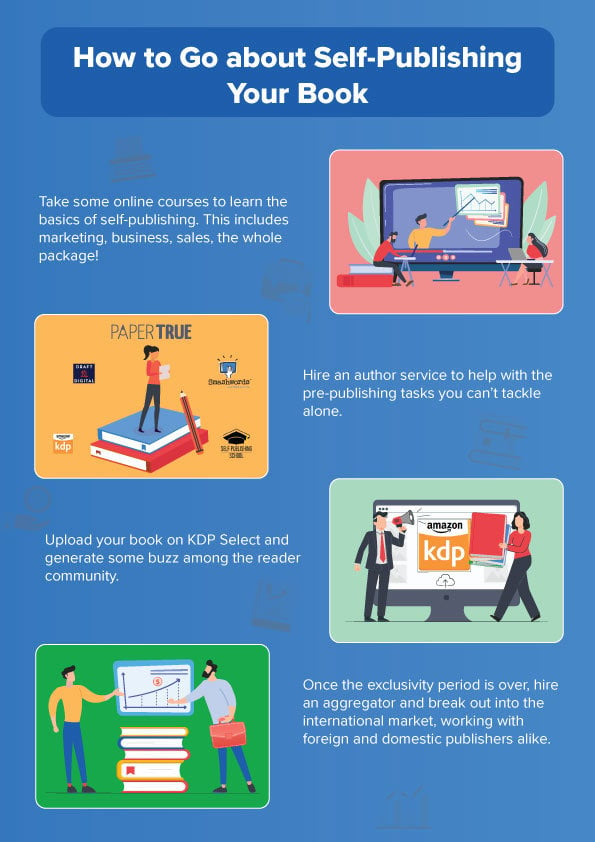 We hope this gives you a clear idea about how to pick and choose from the self-publishing options in front of you. Of course, this is not a fixed roadmap to success. It is merely a guide for new writers to make the best of the options they have while self-publishing.
Do you agree with the solution we have offered? Let us know in the comments!
Frequently Asked Questions
1. What are the best self-publishing companies to reach international markets?
There are several great options here. The retailing company Kobo has a significant presence in Canada. StreetLib is an Italian aggregator company that's influential in Latin America and Europe. It has also been recently spreading into Africa. XinXii is another Europe-based aggregator with a solid presence in Germany, Austria, and Switzerland.
2. Aside from social media, what are my book marketing options?
If you don't go the KDP route and need to generate some buzz about your newly launched or soon-to-be launched book, you can always make an author profile on Goodreads! The platform features millions of readers and writers, making it the perfect place to promote your book.
3. How much should I expect to spend on an author service?
Frankly, it depends on the company you're working with. Most services will offer you a set of prices depending on your word count. If you work with them on all pre-publishing tasks, they might even offer you a discount! Enter your book's word count here to get a price quote.
Prasanna is on a little break from academia and spends his time compiling fiction writing tips. He enjoys poetry, mythology, and drawing lotuses on any surface he can find.