How to Market Your Book Effectively
Oct 25, 2022
8 min read
When you're self-publishing, everything from editing and typesetting to creating a book marketing plan sounds like a stressful undertaking. But if you know the right book marketing strategies, marketing your book isn't all that difficult. So how to market a book effectively?
Writers often assume that they can handle pre-publishing tasks, but need a marketing agency to come up with some book marketing strategies. This isn't true. In fact, pre-publishing steps are where you'll need most help!
A well-thought book marketing plan can help you market your book to millions of people, all by yourself.
Of course, this doesn't mean that you don't need to pay people to market your book, or that paid ads are unnecessary. In fact, paid ads are extremely efficient, and we'll tell you exactly how you should use them to the greatest benefit.
It helps to keep in mind that book marketing is a much more writer-centric task than, say, proofreading or cover design. These days, even traditional publishers expect you to market your own book.
Book promotion in 2022 is less about the name of your publishing house and more about your own author brand, your online presence, and your own book marketing strategies. So, book marketing for self-published authors isn't all that different from the same for traditionally published ones.
How to market your book
A well-designed book marketing plan makes use of several book marketing strategies. This includes an author website, social media, paid ads, or lead magnets. In this article, we will show you how to use different book advertisement ideas to make sure that your book sells well.
While marketing your book, you don't need to follow every single step mentioned below. After all, there is no one answer to "how to market a book." Depending on your experience, budget, and support system,  the answer will vary. So, you should use these twelve steps in a way that suits your book.
This article is a guide, not a fixed template.
So, how to market a book? These are the 12 essential ways in which you can promote your self-published book:
Develop an author brand
This is the most basic but important step of any book marketing plan. Let us look at it this way: what did you do when you wondered, 'how to market a book?' You googled it, right?
Similarly, your readers and potential audiences need to know where they can find you.
Plus, this website is not only a place for your readers to find all your work and writings, but also to connect with you as an author. So make sure it is designed to foster a relationship with your growing audience, and is also directed at expanding it.
How to make an author website?
There's no avoiding it: this will cost you money. But when you consider the other self-publishing expenses you will be incurring, this amount begins to look like a relatively normal one!
If you can afford it, setting up a professional, sleek website with your own domain name will cost you around $1000–$1500.
Before you clutch your pearls, consider this: a domain name that permanently belongs to you is a lifetime investment. Here, you can sell your current and future books, hold various events, promote your undertakings, and build an author brand for yourself. Needless to say, this website is absolutely essential when you market your book. It represents both you as well as your book(s).
But if you absolutely cannot spend this amount, there's a way out.
Website services like GoDaddy will offer you a domain at an yearly cost of $120–$180.
This rate varies depending on the amount of data you have on your website. If this doesn't work for you either, you can always create a blog page, or maintain an author profile on Goodreads (more on this in point 9), where your readers will be able to find you.
Maintain a mailing list
A mailing list is your dedicated list of readers to whom you send emails on a monthly or weekly basis. This is the list of people who might someday be your future customers, so you need to start working on it right away. A place for your readers to find you and a way for you to communicate with them are the basics of how you can market your book.
Write about some interesting topics such as an experience that you can tie in with your book contents, some trivia related to your book, or even some useful information from the niche in which you operate.
The important thing here is that you need to be punctual about a mailing list. If you decide on sending one email per month, then don't stray from that goal. This book marketing strategy is only effective if you are dynamic and consistent, so make sure you create engaging content on a periodic basis to keep your readers hooked.
But how do you get people to subscribe to your mailing list?
Simple: offer them free stuff.
It could be anything: a free copy, a free chapter from your book, a toolkit for fellow writers, or even other products, in case you happen to have other ventures tied to your book marketing plan. This is called a lead magnet, and it helps you gather a list of potential clients by exchanging a certain product for free.
Use the cover design to promote your book
Want to know the easiest way to promote your book? It's your book cover, silly!
A great book cover makes a world of difference. It creates the first impression of your book in the reader's mind, and is responsible for making them want to spend precious coins on your book.
While cover design is, strictly speaking, a pre-publishing service and not necessarily a book marketing strategy, you should keep in mind that a polished cover means more sales, just as a shabby cover means a poor impression. It is difficult to market a book that doesn't have an attractive cover.
You can work with underground artists to develop a beautiful cover for your book, or you can rely on an author service company to do this for you. Remember that cover design works differently for an ebook and a print book, as well as a hardcover. You need to communicate your format, along with other necessary details, to the person you work with.
A cover that captures the essence of your book while intriguing the buyer (and urging them to buy your book) is favorable to your book promotion activities.
A direct title as a book marketing tool
The title is the first thing a person sees when they view your book. It's the most important part of your book cover, and it's instrumental in getting your book sold.
It can be tempting to come up with a witty, playful title that plays homage to a movie or some other cultural phenomenon. But when you do this, you run the risk of alienating a big chunk of your potential buyers. If the majority of your readers won't get your title, then you're much better off with a simpler, more direct one!
In case your book is a work of nonfiction, it's even more crucial to have a direct, no-nonsense title.
Remember: If you want to sell a good number of copies, you need to know exactly what you're selling. You should know what will make someone want to buy your copy, and how you will keep them engaged once they do.
A good title needs to reflect all of this.
Get more reviews
While marketing your self-published book, reviews will be your bread and butter. Readers these days, especially on Amazon, will not touch a book unless it has a minimum of twenty good reviews. Which means, getting those reviews is a prerequisite for you to market your book effectively.
There are easy ways to achieve this. You can approach bloggers that review books in your theme or genre. Contact established or somewhat-established authors and ask them to take a look at your first book.
Most important of all, don't be discouraged if you don't hear back from these people! Getting those first few reviews will be difficult, but if you allocate enough time for the task, it's nothing to worry about.
Contact influencers in your area of interest. This can mean anyone from a book club member to a YouTuber who has some influence on how the people in their contact will read or buy books. Offer these people mutual marketing, if you can.
If there's opportunity for both parties to grow, you may get a sweeter deal than you anticipated.
Offer free copies
This is perhaps the best way to promote your book, especially if you're marketing your first book ever. You can offer free copies either to a selective number of people, or for a certain period of time. Everyone loves free stuff, and there's nothing readers love more than a well-written book that's free!
Giving free copies of your book is a great way to form a lasting relationship with your readers, while also managing to get a good number of reviews on your book.
For the first week at least, offering free copies is an excellent book marketing strategy. It will bring in reviews and help boost your sales organically.
Publish in digital formats
In the year 2021, ebooks made up 21% of all book sales. Especially during the Covid-19 pandemic, publishing your book in alternate formats became essential. With print production halted, authors found it difficult to survive on the income from their print books and switched to the digital format.
Naturally, the ebook industry has grown exponentially, and it is now an assumed book marketing strategy to launch ebooks and offer them at a reduced price, or as free copies along with the print copies that you sell.
If you publish your ebook on Amazon KDP and opt for KDP Select, anyone with a Kindle Unlimited subscription can read your ebook for free, while you'll be paid for how many pages of your book are read.
Along with ebooks, audiobooks have grown rapidly in the book publishing industry, registering a massive 39% boom in 2020. The benefit of audiobooks is that they're easy to publish and easy for your audience to go through. Plus, if you record it yourself, you're literally telling your story to your reader, forming a lasting bond with them.
Ebooks and audiobooks mean newer markets and more profit. But they also help you market your book both as lead magnets and as a way to get more reviews.
Run ads on Amazon
If you've published through KDP Select, you are benefitting from its free promotional features anyway. Kindle Unlimited gives you plenty of exposure, while Amazon pays you for the amount of pages people read from your book.
But if you want to take this a step further and gain more readers, running ads is your best shot. You can target your ideal readers with Amazon advertising, and you only have to pay when someone clicks on your ad.
With over 300 million buyers listed on its online store, Amazon has access to a lion's share of buyers throughout the world. You can bid on the keywords most relevant to your book and put it in front of potential readers who already trust Amazon's ratings and reviews.
With an average CTC (click to conversion) rate of $0.81, you can bid on your keywords, paying more or less depending on how your campaign performs.
Amazon is largely a retailing platform, so the people who watch your ads here are already in the process of shopping. This makes them ready buyers for your book. As long as your ad is intriguing and engaging, it's highly likely that the reader will want to take a look at your book. All you need now is a minimum of 20 reviews to assure the buyer of the book's quality.
Since Amazon is the biggest platform in book retailing, running ads here will tremendously help you market your self-published book. Make use of the resources they provide, and be assured that you will get results.
Run ads on Facebook
In the digital times, if you don't have an online book marketing plan, you aren't marketing your book at all. Aside from blog exposure and reviews, what you need to maintain a trajectory of growth in sales is running targeted ads on Facebook.
Of course, this isn't for the authors who haven't yet begun to earn from their book. Unless you have a minimum number of sales and a fixed, profitable price for your book, running ads on Facebook won't be beneficial.
Since Facebook runs primarily on data, the site has detailed profiles on your ideal reader. This data will help you figure out your strategy and reach out to your audience easily. For example, if your work is in the Fantasy genre, your target audience is people that have ideally read the Harry Potter series or the Lord of the Rings saga.
Facebook knows who your potential readers are, and for a daily spending of anything from $10 to $100, it will turn these into customers who are willing to buy your book.
The site has exponentially improved book marketing for self-published authors, earning them great profits within the very first month of advertising.
Create an author profile on Goodreads
While handling the online book marketing, you cannot afford to miss out on Goodreads. It has over 90 million readers and writers, and you can form a network here to promote your book as well as other ventures you may come up with.
Goodreads' Author Profile isn't just a repository of all your books; it also acts as an author website for you, where you can host events, hold giveaways, and basically develop an author brand. Remember how we talked about author branding on a budget? This is precisely the place to do that!
It's absolutely free to make an author page and promote your book through Goodreads. But if you wish to exploit their targeted ads program, then you may have to spend some coin.
Goodreads' ad campaign starts from the lowest priority level, charging $0.25–$0.50 as a per-click rate. You can spend however much you want on these and get the appropriate level of results.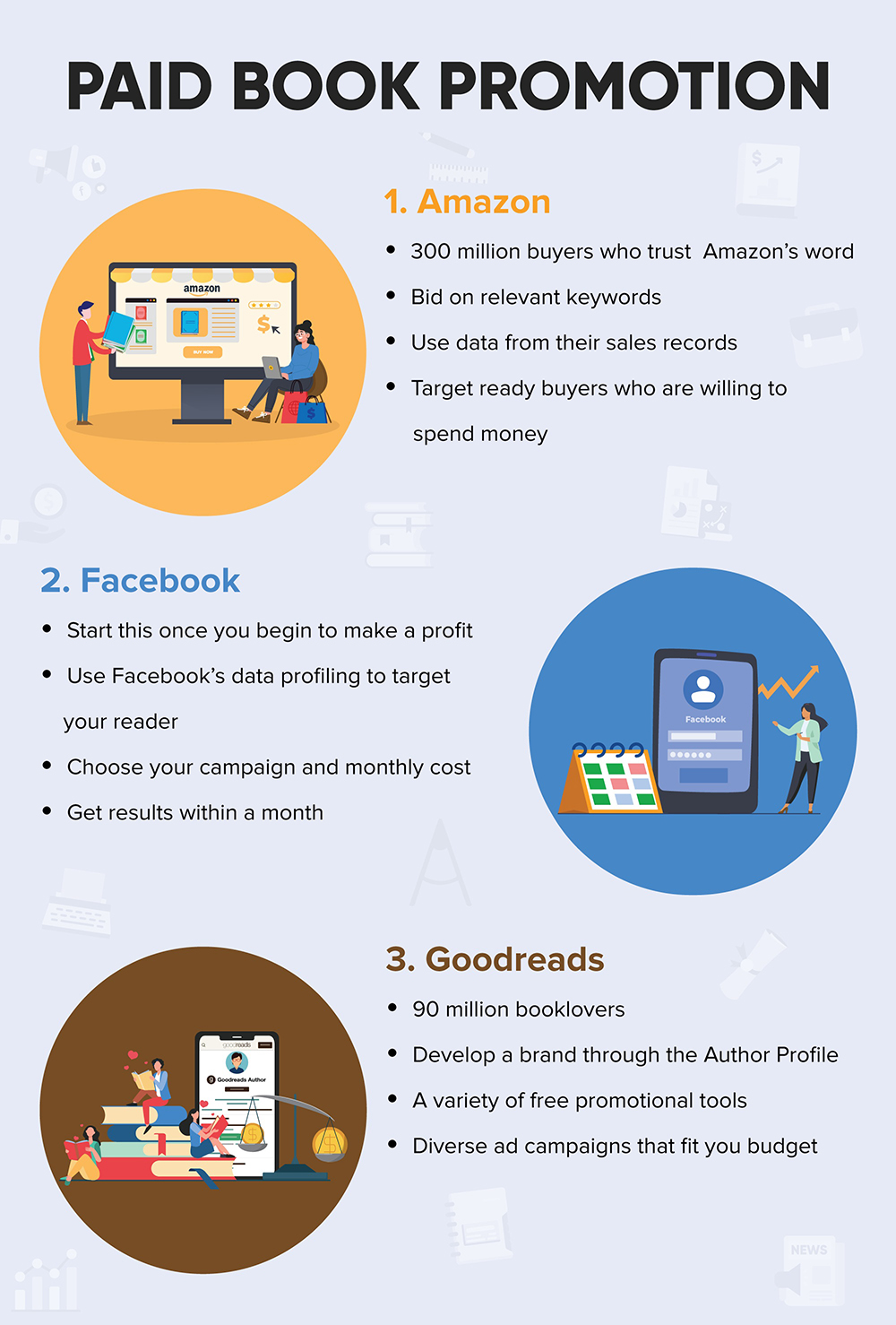 10. Form a book launch team
So this is the tricky part. But don't stress out yet! Like everything else on this list, all you need is enough time and proper strategy to do this effectively.
So yes, a launch team. You'll need one for a successful book launch as well as for the book promotion activities that come before and after the launch.
These team members can be anyone from your closest friends to your neighbors to your coworkers who are interested in your book. The only thing is, they need to be capable of the tasks you delegate to them, and they need to understand the basics of your book marketing strategy.
Coordinate various post-publishing tasks with this team. Have offline and online meetings, create spaces to log the team's work. You can have these members write some good reviews, ask them to help drive traffic to your book page once it's launched, and use their connections to further grow your mailing list.
Be sure to be actively thankful for their help, of course, and offer them a signed copy as a token of your gratitude!
Recruit influencers to market your first book
You have two options here. The easier one, of course, is to approach an influencer who has a significant following on any social media platform. You can offer them a free copy and ask them to review your book (on their blog or podcast or YouTube video) or interview you as an emerging self-published author. Often, influencers will accept the chance to interview a new writer, so you don't have to worry about being rejected!
Remember that it always helps to start your book marketing plan locally and then expand into the wider market. You don't have to get the biggest channel out there. Anyone who operates with books of your genre and has an acceptable amount of sway amongst their audience will do fine.
If there's an interview involved, just be yourself. Talk about your book and what inspired it, and who you are as a writer. Establishing your author brand through these channels is absolutely essential.
The second option here is a bit hard to master, especially if you have no background in YouTube.
You can start a channel of your own! Talk there about other books of your type, review the work of other authors, and provide a platform for people with whom you can eventually market your first book. Meanwhile, keep dropping hints or references to the book you're in the process of publishing, gradually paving the way for you to promote your book actively.
This is a long-term marketing strategy, but it has proven effective in many cases. In fact, most influencers these days turn to writing and publishing their own books! Naturally, it makes sense for a self-publishing writer to follow the process.
Connect with the writing community
It's a misconception that as a writer, you are in competition with other writers while selling or promoting your book. This isn't true! Especially while marketing your first book, you can find much to learn from fellow authors.
The writing community is a place of allyship where you can connect with other writers and readers to form a valuable network. On Twitter, you can find threads about useful tips, life experiences, and advice from other people. You can become a part of this community, helping other writers and asking for their help when you need it.
You can review the work of other authors in your genre and write articles about their books on your blog. It's possible to do these activities in coordination with your author profile on Goodreads. Aside from a key space for your book marketing plan, this profile is a platform for you to engage in the community experience that publishing a book can be.
This is a slow process and will not get you quick results. But it adds significant value to your career by connecting you to people with whom you can form lasting professional and personal relationships.
Book Promotion Made Easy
So here we are: these are the 12 easy steps for you to market your first book.

We know, they hardly look easy when you're just getting started! But if you have conquered editing, proofreading, typesetting, cover design, and copyrighting, trust yourself to overcome this challenge as well.
Give it time, form a book marketing plan, and you should be good to go. All the best!
Prasanna is on a little break from academia and spends his time compiling fiction writing tips. He enjoys poetry, mythology, and drawing lotuses on any surface he can find.